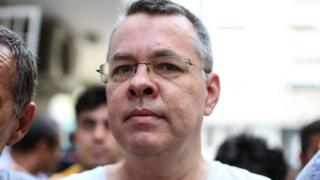 A court in Turkey has freed a US pastor from house arrest in a case that badly strained ties between the US and Turkey.
Andrew Brunson was arrested over alleged links to political groups, including the banned Gulenist movement, following the failed 2016 coup attempt.
The court convicted him of terror charges and sentenced him to jail but he will not serve time.
He denied charges of espionage, which could have led to a 35-year jail term.
The pastor is a long-term resident in Turkey. He lived with his wife and three children while working for the small Izmir Resurrection Church, which had a congregation of about two dozen.
The authorities accuse him of having links with the outlawed Kurdistan Workers' Party (PKK) and the Gulenist movement, which Turkey blames for the 2016 failed coup.
His detention has damaged relations between Washington and Ankara, who are allies in Nato, with both sides imposing sanctions on the other.
Mr Brunson is one of 20 Americans who were charged after the coup attempt two years ago, according to the New York Times.
More than 50,000 people were arrested in Turkey in President Erdogan's huge post-coup crackdown.