Among Tortola's sharp peaks and bougainvillea-clad hillsides you'll find a mash-up of play places. Take surfing lessons, join fire jugglers at a full-moon party, dive on shipwrecks, and by all means go sailing amid the festive surrounding isles.
About 80% of the BVI's 29,000 citizens live and work on Tortola. It's the BVI's governmental and commercial center, plus its air and ferry hub.
I really do believe that some of the best beaches in the Caribbean are found right here in Tortola. I'm not alone, every year Tortola's best beaches are plastered all over countless magazines and websites. There aren't that many beaches, but each one is unique in its own way.
Once I get off the plane I can't help but hit the beach immediately. I love to get there and stick my toes in the warm sand and watch as the waves roll in. All the while feeling those tropical breezes and enjoying a refreshing rum punch. It's like my little piece of heaven on earth.
I want to give you the rundown about what there is to do and see on all of the best beaches of Tortola. From there I'll let you tailor your Tortola vacation to meet your own specific needs.
---
Cane Garden Bay: This is by far the most famous of Tortola's beaches. Cane Garden Bay is the closest beach to Road Town. Therefore, more tourist hit this beach than any other. This is especially true if a cruise ship has docked. Don't make a trip to Tortola without seeing this beach!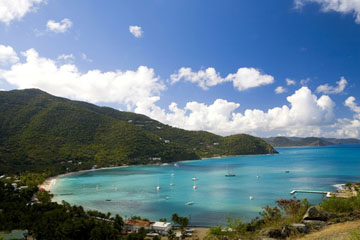 ---
Brewers Bay: Is the opposite of Cane Garden Bay. Here you'll find a campground but little else. Be very careful driving here, the road to Brewer's Bay is one of the hairiest on the island. There isn't really any development here, but it is one of my favorite beaches. You can just lie in the shade of the coconut trees and forget all of your worries.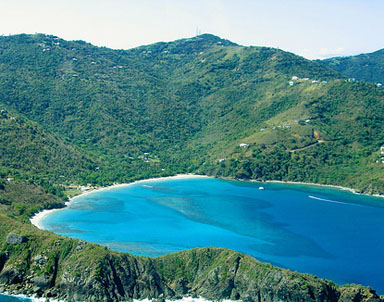 Brewer's Bay by SF
---
Long Bay: Is split up into two beaches Long Bay East (on Beef Island) and Long Bay West (Tortola).
Long Bay East: Has some amazing scenery, but little in the way of amenities. After you drive over the bridge to Beef Island hang a left just past the salt flats. The swimming here is excellent because there is little undertow. The locals consider this the best beach on the island.
Long Bay West: Is a beautiful mile-long stretch of white sand that I love to stroll down during a Tortola sunset.
Here you'll find the Long Bay Resort which provides all types of water sports gear. Grab a drink from the 1748 bar, or if romance is in the air check out the Pasta House. This is an 18th century sugar mill turned Italian restaurant has some of the best food on the island. It's only open for dinner two days a week, so get your reservations early.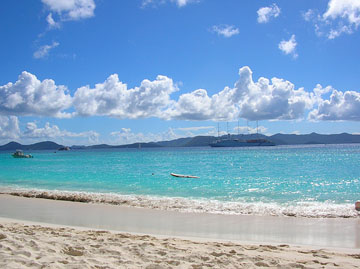 ---
Smuggler's Cove: If you're brave enough to drive the rut-lined road to Smuggler's Cove you will be handsomely rewarded. This crescent shaped swath of sand has plenty of seagrape trees for shade and some good snorkeling as well. Steven's Beach Bar is the place to get an tasty island drink or even a hot dog. They also rent snorkel gear here, if your looking to make a splash.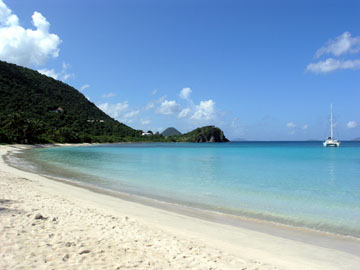 ---
Apple Bay: Is a surf haven, its rolling tides make it the best beach for shredding some waves. January and February are the best time to catch some waves, but check the weather before you leave. Other times of the year are more hit-and-miss. So if you want to surf please book your trip in the winter.
Bomba's Shack is a famous Caribbean beach destination. It's an adults-only atmosphere though.
Apple Bay is also home to Sebastian's, a small surf side resort. If your hungry, mosey over to Sebastian's for their Friday night fish fry.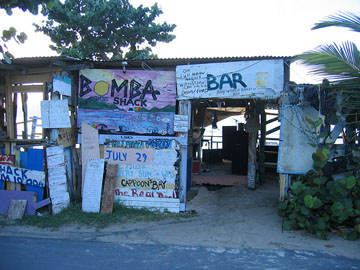 Bomba's Shack photo courtesy of BB
---
Lambert Beach: Is the location of Lambert Beach Resort. Home of the Turtle Restaurant which serves some wonderful Sunday brunches. On this beach you'll find many water sports activities available. If the North swell is up then you can surf some good sized waves, but be careful to check the undertow before you get to deep.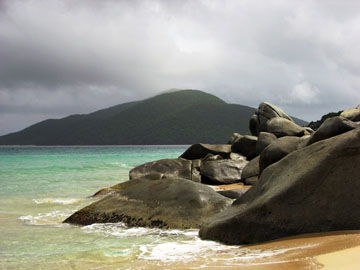 ---
Brandywine Bay: Is the only beach on this list located on the south side of the island. If your looking for the best beach that you can have all to yourself, then come here. There's no undertow and the swimming is quite good. There is limited shade, but the beach is quite good if you like to collect sea shells.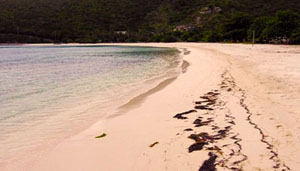 ---
Josiah's Bay: Is at the top of many local surfers best beaches list. Many times you can find yourself all alone here, that's one reason I like it so much. The beach here backs into a farming community and you can often see more cows lounging in the sun here than people.
There are strong undertows at each end of the beach so try to steer clear of that. Food options are Josiah's Bay Beach Bar, Naomi's, and Secret Garden. Just up the hill a bit is the Tamarind Club, I really love their toasted coconut ice-cream pie.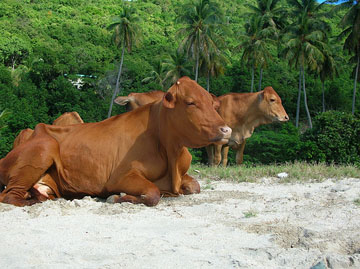 ---
Now that you've learned some of the secrets about Tortola's best beaches, it's time to pack up your suntan lotion and make your way towards the sand. I hope I've provided you enough information to hit the spots you want to hit, and save the rest of the beaches for your next trip.
A day might not be enough to tour this island—all 21 square miles (56 square km) of it—not because there's so much to see and do but because you're meant to relax while you're here. Time stands still even in Road Town, the island's biggest community (though not as still as it did even in the early 1990s), where the hands of the central square's clock occasionally move but never tell the right time. The harbor, however, is busy with sailboats—this is the charter-boat capital of the Caribbean. Tortola's roads dip and curve around the island and lead to lovely, secluded accommodations.
Tortola is definitely busy these days, particularly when several cruise ships tie up at the Road Town dock. Passengers crowd the streets and shops, and open-air jitneys filled with them create bottlenecks on the island's byways. That said, most folks visit Tortola to relax on its deserted sands or linger over lunch at one of its many delightful restaurants. Beaches are never more than a few miles away, and the steep green hills that form Tortola's spine are fanned by gentle trade winds. The neighboring islands glimmer like emeralds in a sea of sapphire. It can be a world far removed from the hustle of modern life, but it simply doesn't compare to Virgin Gorda in terms of beautiful beaches—or even luxury resorts, for that matter.
Still a British colonial outpost, the island's economy depends on tourism and its offshore financial-services businesses. With a population of around 24,000, most people work in those industries or for the local government. You'll hear lots of crisp British accents thanks to a large number of expats who call the island home, but the melodic West Indian accent still predominates.
Initially settled by Taíno Indians, Tortola saw a string of visitors over the years. Christopher Columbus sailed by in 1493 on his second voyage to the New World, and Spain, Holland, and France made periodic visits about a century later. Sir Francis Drake arrived in 1595, leaving his name on the passage between Tortola and St. John. Pirates and buccaneers followed, the British finally laying claim to the island in the late 1600s. In 1741 John Pickering became the first lieutenant governor of Tortola, and the seat of the British government moved from Virgin Gorda to Tortola. As the agrarian economy continued to grow, slaves were imported from Africa. The slave trade was abolished in 1807, but slaves in Tortola and the rest of the BVI did not gain their freedom until August 1, 1834, when the Emancipation Proclamation was read at Sunday Morning Well in Road Town. That date is celebrated every year with the island's annual Carnival.
Visitors have a choice of accommodations, but most fall into the small and smaller still category. Only Long Bay on Tortola's North Shore qualifies as a resort, but even some of the smaller properties add amenities occasionally. A couple of new hotel projects are in the works, so look for more growth in the island's hotel industry over the next decade.
The British Virgin Islands enjoy a tropical climate, moderated by trade winds. Temperatures vary little throughout the year. In the capital, Road Town, typical daily maxima are around 32 °C (89.6 °F) in the summer and 29 °C (84.2 °F) in the winter. Typical daily minima are around 24 °C (75.2 °F) in the summer and 21 °C (69.8 °F) in the winter. Rainfall averages about 1,150 mm (45.3 in) per year, higher in the hills and lower on the coast. Rainfall can be quite variable, but the wettest months on average are September to November and the driest months on average are February and March. Hurricanes occasionally hit the islands, with the hurricane season running from June to November.
Top Reasons To Go
Charter a boat Tortola is the charter-yacht capital of the Caribbean and a popular destination for boaters.
Hit the road You'll get the real flavor of the island by heading out in whatever direction you choose. The views are dramatic, and the traffic is light enough to allow for easy driving.
Shop in Road Town The island's largest community is also home to an eclectic collection of stores.
Hit the trail Tortola is home to Sage Mountain National Park, a small but quite nice nature reserve.
Get wet Dive trips to spectacular locations leave from Tortola. If you're not certified to dive, an introductory course can teach you the basics and whet your appetite for more adventures under the sea.
Island Info
Powdery white-sand beaches, lush green mountains, and a sheltered yacht-filled harbour characterize the island of Tortola, where the past of the West Indies meets the present of the BVI
Activities
For those of you who prefer to be active, we have an array of things to do within the islands of BVI
Events & Festivals
The British Virgin Islands has lots to do. We have many annual events that attract visitors of all interests.
Accommodations
We offer a wide range of places to stay across all of the islands. Whatever you have in mind, the British Virgin Islands has a place to make your Caribbean dreams come true. Accommodation type ranges from resorts, hotels, apartments, cottages, villas or if wish to get away from it all you can also stay on a private island.